EB Games has the latest range of new and preowned games for Xbox, Playstation, PC and Nintendo! Come in check out their loot, accessories and don't forget to ask about their awesome trade in deals!
EB Games will price match any local competitor that has the same product currently on sale at a lower price than theirs. Just bring in the catalogue as proof and provided it's in-stock and on sale at the time of matching, they will honour that price. You can even trade-in your old console games and hardware* to lower the price even further! Why shop anywhere else?
Trade your old games and consoles at EB Games - and save money off anything in our store.
*Some exclusions apply, see store for details.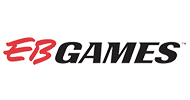 Centre Trading Hours
Monday - Wednesday
10:00AM - 7:00PM
Thursday
10:00AM - 9:00PM
Friday
10:00AM - 7:00PM
Saturday
9:00AM - 6:00PM
Sunday
10:00AM - 6:00PM
Saturday 14 December
9:00am - 7:00pm
Sunday 15 December
10:00am - 7:00pm
Monday 16 - Wednesday 18 December
9:00am - 8:00pm
Thursday 19 December
9:00am - 10:00pm
Friday 20 December
9:00am - 8:00pm
Saturday 21 December
9:00am - 8:00pm
Sunday 22 December
9:00am - 8:00pm
Monday 23 December
9:00am - 8:00pm
Christmas Eve
9:00AM - 6:00PM
Christmas Day (excluding HOYTS)
Closed
Boxing Day
8:00AM - 9:00PM
New Year's Eve
10:00AM - 7:00PM
New Year's Day
10:00AM - 6:00PM