Garden Greens and Chorizo Soup

Recipes by Will and Steve - Winners of MKR 2015

Prep and cook time: 40 minutes | Serves 4


Ingredients:
2 tablespoons olive oil
2 tablespoons butter
1 large head of broccoli, florets separated
12 spring onions, finely chopped
Sea salt flakes and freshly ground black pepper
16 asparagus spears, finely chopped
2 cups frozen peas
4 garlic cloves, finely chopped
1 cup dry white wine
1 litre vegetable stock
2 tablespoons finely chopped mint
2 tablespoons finely chopped coriander
Juice of 1 lemon
1⁄2 cup thickened cream
3 chorizo sausages, cut into 1cm thick slices
Coriander leaves, to serve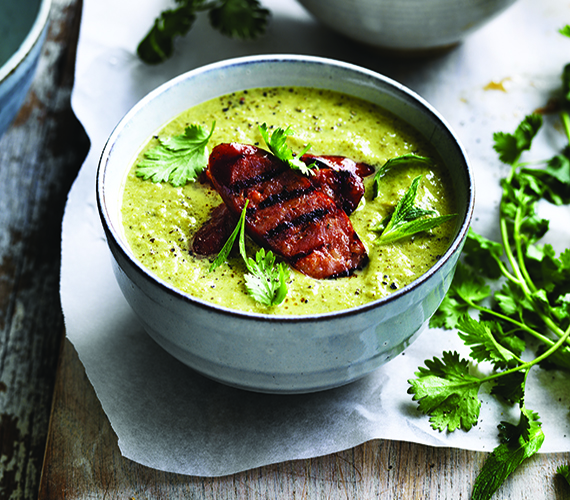 Method:
1. Heat a tablespoon of olive oil and a tablespoon of butter in a large sauté pan over medium–high heat. Add the broccoli florets and sauté for 2 minutes. Add the spring onion and the remaining butter and olive oil and cook for a further 2 minutes. Season with salt and pepper.
2. Add the asparagus, peas and garlic to the pan and cook, stirring occasionally, for 2 minutes. Turn the heat to high, add the white wine and flambé. To flambé, tip the pan carefully away from you but towards the open flame, allow the vapours to ignite and keep the pan at arm's length. Allow the alcohol to burn off naturally before you continue cooking.
3. Add the vegetable stock, bring to the boil and simmer for 10 minutes.
4. Take the pan off the heat and blitz the vegetable mixture with a stick blender until smooth. Alternatively, you can place it in a blender and puree. Add the mint, coriander, lemon juice and 1⁄2 cup of cream, stir and season to taste.
5. Fry the chorizo in a dry frying pan on high heat until golden brown, roughly 2 minutes on each side.
6. Pour the soup into four serving bowls, top with the chorizo, and add a few coriander leaves to garnish.


Recipe from 'Will and Steve | Home Cook, Aspiring Chef'

www.willandsteve.com.au
Photo Credit: William Meppem
INSPIRATION
Check this out