The Sushi World brand was established in 1996, and since then has been the biggest sushi brand to open stores across Sydney and Canberra.
Sushi World has popularised sushi in Sydney shopping malls by providing you with many big maki roll favourites such as cooked tuna, chicken teriyaki, Beef teriyaki, fresh salmon and avocado, and also with our wide selection of popular nigiri sushi lunch boxes.
Our sushi is made fresh daily on shop premises, delivering a healthier eating alternative. Contact us for party tray orders today!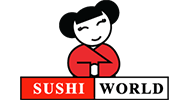 Sushi World Trading Hours
Monday - Sunday
7:00am - 10:00pm
Sushi World | Broadway Sydney