Food & Drink
Shepherd's Artisan Bakehouse
Is there anything nicer than the smell and taste of warm bread, served straight from the oven? For Shepherd's Artisan Bakehouse, the joy they see on customer's faces when they hold a loaf of freshly baked sourdough is worth all the early mornings and painstaking handcrafting. Sharing the love of quality artisan food is what inspired them to begin their business, and it's what drives them still. From classics like their famous Almond Croissant to gluten free gourmet pies with world-flavour inspired fillings, they've got something to suit every taste and every dietary need.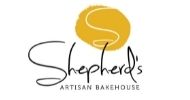 Centre Trading Hours
Monday - Wednesday
10:00AM - 7:00PM
Thursday
10:00AM - 9:00PM
Friday
10:00AM - 7:00PM
Saturday
9:00AM - 6:00PM
Sunday
10:00AM - 6:00PM
*PLEASE CHECK WITH INDIVIDUAL STORES AS TRADING HOURS MAY VARY.